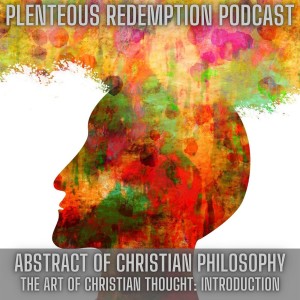 Friday Sep 03, 2021
Abstract Of Christian Philosophy | The Art Of Christian Thought: Introduction
Abstract Of Christian Philosophy | The Art Of Christian Thought: Introduction
Plenteous Redemption Podcast
Thinking is essential to our daily lives. And yet, the world around us is determined to create
perpetual amusement that prevents critical thinking. In an attempt to be fair, I will not assume
the world's entities that provide such intend to do so for malicious reasons. Financial gain can
be had for those who make the world more around us more convenient, and no activity can be
more taxing than thinking. Thus, as problem-solvers for profit, they place themselves in a
position to provide effortless thought. Better yet, as endless consumption is available, one will
not need to think at all.
Plenteous Redemption Podcast:
Website: https://plenteousredemption.com/     
Plenteous Redemption Podcast: https://www.plenteousredemption.media/    
Plenteous Redemption YouTube: https://www.youtube.com/c/PlenteousRedemption/featured   
Plenteous Redemption Facebook: https://www.facebook.com/plenteousredemption/   
Plenteous Redemption Twitter: https://twitter.com/Sireofages    
Missionary Thomas Irvin
Plenteous Redemption Podcast
Comments (0)
To leave or reply to comments, please download free Podbean or