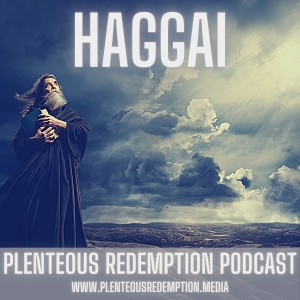 Monday Sep 13, 2021
The Book Of Haggai | Haggai 1:12-15 - The Proper Response To Bible Preaching
The Book Of Haggai | Haggai 1:12-15 - The Proper Response To Bible Preaching
Plenteous Redemption Podcast
Haggai was faithful to confront Judah with God's word. Faithfulness of this sort greatly lacks
today in both the Christian and secular worlds. We have been forced into self-censorship by way
of conformity to the doctrines of tolerance and political correctness. Haggai did not allow the
ideological attitudes of his day to sway him; he was faithful to present God's word - though it
was contrary to people's daily lives. Furthermore, it was a most uncomfortable message to
preach, but he was faithful and obedient to the Lord.
Our responsibility today resembles this same order. We are to stand before the people and
deliver God's word. Whether in Christendom or the secular world, it matters not. We are to
preach the word - instant in season and out of season. Men may not like what is said, but this
provides them the opportunity to be confronted by God's word. This confrontation is essential to
the salvation of souls and the propagation of righteousness in the world. When those who
have the righteousness of Jesus Christ do not confront the world with his word, we facilitate the
direction of a nation that has no fear of God. In turn, God will at some point be forced to
intervene by way of judgment.
Otherwise, when God's people are faithful to preach his word, and people are obedient to that
preaching, God is pleased and joins himself to such a people or nation. The options are clear,
receive God's blessing through our obedience to his word or receive God's judgment through
our disobedience to his word.
In the book of Haggai, the people obeyed the voice of the Lord. But, throughout Judah's history, this was not always the case.
Plenteous Redemption Podcast: Website: https://plenteousredemption.com/     
Plenteous Redemption Podcast: https://www.plenteousredemption.media/    
Plenteous Redemption YouTube: https://www.youtube.com/c/PlenteousRedemption/featured   
Plenteous Redemption Facebook: https://www.facebook.com/plenteousredemption/   
Plenteous Redemption Twitter: https://twitter.com/Sireofages    
Missionary Thomas Irvin
Plenteous Redemption Podcast
Comments (0)
To leave or reply to comments, please download free Podbean or